Randall Rudd
Needs your help!!!
An open invitation to be a part of...
THE ULTIMATE DRIVE-IN BOOK: COMING TO YOUR LIBRARY SOON
Ever wonder why there aren't dozens of books on Drive-Ins? It's because there has been remarkably little ever published, either in words or photos, on that "neglected step-child" of the motion picture industry, the outdoor theatre.
But, according to Randall Rudd, that's no reason not to write a book on Drive-Ins. In this case, in order to get the materials, one must often act like a detective. Through interviews, borrowed old photos, scraps of "evidence," climbing through barbed-wire fences, etc. I've been able to finally piece together a never before known (or seen) history that captures what Drive-Ins were, what they are now, what they meant to us, and how much fun we all had, and are still having.
Rudd has conducted over 200 interviews through extensive traveling, via mail correspondence, telephone, internet and in person. Through this personal contact, a fascinating and incredible "real" history of Drive-Ins has evolved directly from the remarks and recollections of the folks who were there.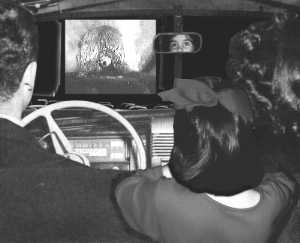 "This book is taking shape one photo and one story at a time. We're delighted with what is emerging. It's a book filled with marvelous stories, rich in Americana, humor and pathos. We now have a remarkable range of stories; Sneak Ins (This section will surpass your imagination!), Playgrounds (were kids ever really injured on those merry-go-rounds?), Passion Pits,( Real stories from the back rows - from remarkably embarrassing to the hilarious!), Snack Bar Stories (hear what's actually in those hot dogs, "secret ingredients," why they called one man "Pepperoni Pockets, etc. )," Projectionist's worst nightmares, Gimmick movies (see and read about 'barf bags,' Drive-In 3-D, Scratch-N-Sniff, Snack bar 'shows,' burlesque on the roof, live monsters, the works!), Acts of nature (fires, floods, tornadoes, snow, lightening), Acts of man (murders, wild hogs on a rampage, hangings from screen towers, flaming cats, Hell's Angel's invasions, etc.), plus Dusk till Dawn horror stories, etc. "You could say that it's all that you might expect - and more than you can imagine," says Rudd.
Rudd believes that Drive-In Theatres were a big part of our lives and culture. That time has all but passed, but the memories are worth keeping. Here's where you come in...
If you have a story or recollection, or if you know of a person who has information or stories or some old material, memorabilia or photos they might be willing to share, please contact Randall. "Especially interested in borrowing and/or purchasing reference publications, like "Theatre Catalogues" and periodicals "Box Office Magazine and Motion Picture Herald, and Exhibitor." We're also interested in purchasing speakers, posters, paper, postcards, playbills, giveaways and any memorabilia from Drive-In Theatres. "Many of the folks who were in the business have now retired, so often I'll get a call from a friend or relative asking me to contact a person. When I hear "they like to talk about their Drive-In Days" you can bet I follow through." I'm always delighted to hear from folks about their Drive-In experiences, especially former owners, managers, employees, etc."
"We're not ready to close the book yet. We still feel there is more great material out there, and the internet has been remarkable for the book, putting us in touch with so many wonderful people, getting their stories, and sharing their snapshots," commented Rudd.
Simply contact Randall Rudd at rudd@satx.rr.com, or write to Rudd Creative, 709 Morningside Drive, San Antonio, Texas 78209 (210) 829-5624 or FAX (210) 829-0869. All materials are guaranteed returned, with book credit to the donor, if desired.
Return to Drive-In Theater Main Page